Hometrack is a service that provides property valuation reports for estate agents and they've partnered with Jupix to produce these reports using your property data.
This article includes:
Activating Hometrack
Click Appraisals on the main homebar
Search for the relevant appraisal in the Find bar and click Go. Click View on the relevant record

Alternatively, find and click the relevant appraisal from within the Last Viewed section


Click the Comparable Tools tab
In the Market Appraisal Comparable Tools section, click Hometrack
A Hometrack window appears. Click Start Trial

You'll also have the option to download a sample report before starting. Jupix users will be able to trial up to 20 reports for a one month period
Note
In order to use Comparable Tools, the property must have a valid postcode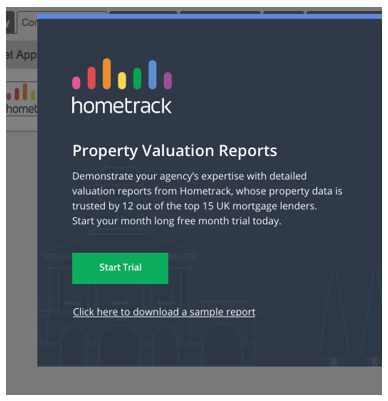 Ordering a Hometrack Valuation Report
To order a report, click Hometrack in the Market Appraisal Comparable Tools section
Some Jupix Property Styles may not be supported by Hometrack. If this is the case, click an alternative Hometrack Property Type from the dropdown menu
Click Place Order
You'll have the option to download the report. Click Download Report to download it in .pdf format
The report appears in the Property Valuation Reports section, along with the time it was generated and the user it was generated by. You can click Download Report to download and access it at any time

If you want to place another order, follow the steps above. If a report has already been generated for the same property, you'll be alerted, at which point if you wish, you can click Place Another Order to continue.
Note
If you haven't entered the number of bedrooms for the property, you'll be prompted to do so before you're able to place an order. Add the relevant details and then continue with placing an order
All reports ordered appear in the Property Valuation Reports section and are accessible to all Jupix users
When your trial with Hometrack ends
You may be advised that your free trial with Hometrack has expired when you click Place Order. If this is the case, and you are interested in continuing with this service, call or email the contact details provided.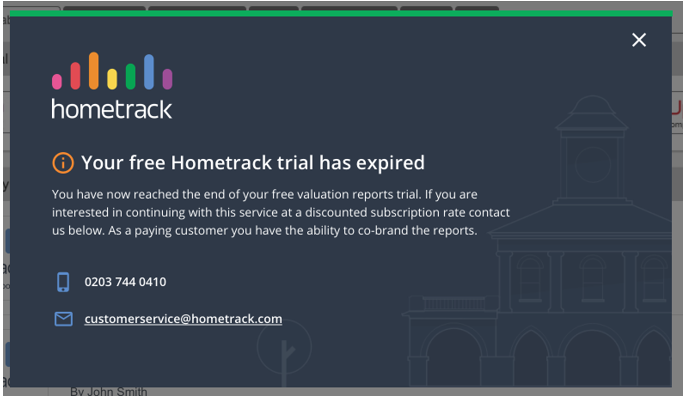 Should you have any other questions, please direct them to customerservice@hometrack.com or call 020 3744 0410.