Question:
How do I find an existing contact within Jupix and how do I add new contacts to my Jupix application?
Solution:
The purpose of the Contacts section of Jupix is to enable you to have somewhere to record and link people and companies to your other records, such as Solicitors and Plumbers and any other Contractors that you will need. This will enable the posting of invoices and production of merged documents.
Finding a Contact
Select Contacts from the header bar in
In the Find window enter at least the first three characters of the contact you wish to find and select Go.
Below the Find field there is a Last Viewed section that shows the last 5 contacts that you accessed. You can select any of these to go to the contact record.
Also there is a Categories section that has two standard lists; All Contacts and Solicitors. You can create your own Saved Lists.
To create a saves list you will need to generate the list first and then select 'View' on the first entry of the client. You will then see in the top right hand corner 'Save List'

This will then save the list for you. If you wish to rename the list you will need to select 'Save lists' when you have clicked on the contacts drop down and you will see the below options.

Editing a Contact
You still have the ability to edit the record once it has been created by selecting an existing contact by following the instructions above and the then Clicking on the Edit Contact Details link in the bottom right of the section.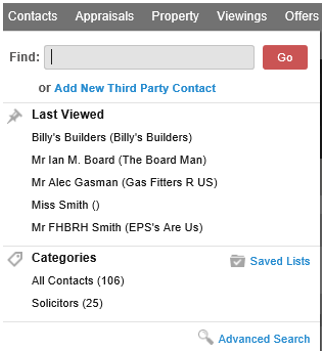 There is also an Advanced Search option to allow you to narrow your search.
Adding a new Contact
Select Contacts from the header bar in

Then select the option Add New Third Party Contact, which is directly under the Find field. This will open a new window where you can enter the details of your new contact.
The Add New Third Party Contact screen has the standard contact details section common throughout Jupix. The important difference is the ability to select the Contact Category and so designate the record as a Solicitor or a Plumber and so on.
Using the Backspace on your keyboard shows the last five contacts you accessed to allow for quicker retrieval.
Click on the Save button when you have entered all of the information.