Question:
How do I set a not renewing tenancy to periodic?
Solution:
If a tenancy has been sent to Not Renewing, but the tenancy needs to now be set to periodic, go to the tenancy record. Click on the Renewal tab, then click Renewing.

From here, tick the Create Periodic Tenancy box at the top of the screen, check the Payment and Management Details are correct and Save.

The tenancy is not ready to be set to Periodic.
This can be done by going to the Renewal tab and clicking on Set to Periodic Now.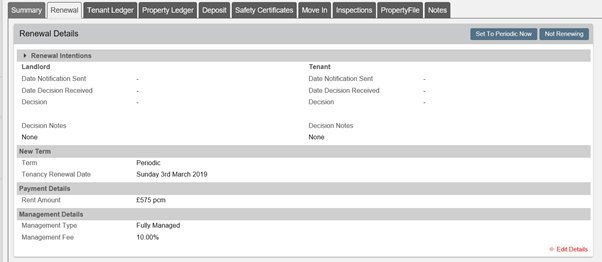 Warning
Renewing the tenancy when there is a Rent increase or Management Fee change will automatically update the Rent Amount and Management Fee charges. Therefore, the tenancy should not be Set to Periodic/Renewal until the last rent has been demanded on the previous term