Follow the steps below to pay Landlords, Suppliers or Tenants by BACS?
Go to Home Screen> Dashboard> Accounts section and click on the number against the Pay landlords, suppliers or tenants listed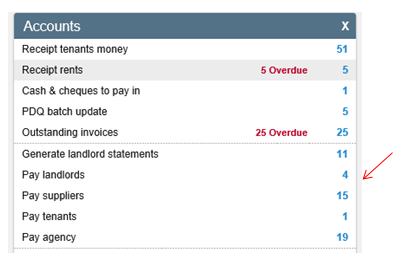 In this example I have chosen to pay landlords:

Select the bank account you want to pay from the dropdown box.
Select

BACS

payment type and left click the

Next

button.
Select on the expand icon at the beginning of the line (Landlord payment only) you will find more details relating to payment.
Click anywhere on the line when paying Contractors/Suppliers will expand the line allowing you to deduct contractor commission from the payment.

Either Print to PDF, Export to Excel, or Create BACS File