On the Commercial tab on Jupix, the properties have the option to make offers and complete leases, the 'Leases' tab is for properties to rent, and the 'Offers' tab is for properties For Sale.
To start a sale, click on the offers tab and click 'Make Offer'

You will then need to fill in the details of the offer, including the price of the offer, if it is subject to anything and the fixtures and fittings.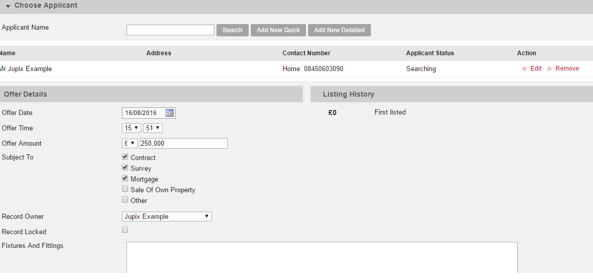 You also have the option to 'Decline – Make Revised Offer', this will decline this offer and allow you to make a new offer. 'Decline Offer' will allow you to decline this offer. 'Withdraw Offer' will allow you to withdraw the offer.
Once the offer is accepted, you will need to select the solicitor details.
From the Sales tab of the property you will be able to view the sale, you can then progress the sale though to exchange. If the sale falls through and the property needs to go back on the market this can be done from here.

Once exchanged the option to complete the sale will appear and this will mark the property as sold.