Set up a Supplier to be paid by BACS
Follow the steps below to set up a Supplier so they can be paid by BACS in Jupix.
N.B. You may need to have both Bank Account Permissions - View Bank Account Details / Edit Contact Bank Accounts, to complete this process.
Locate the Supplier that you wish to be paid by BACS.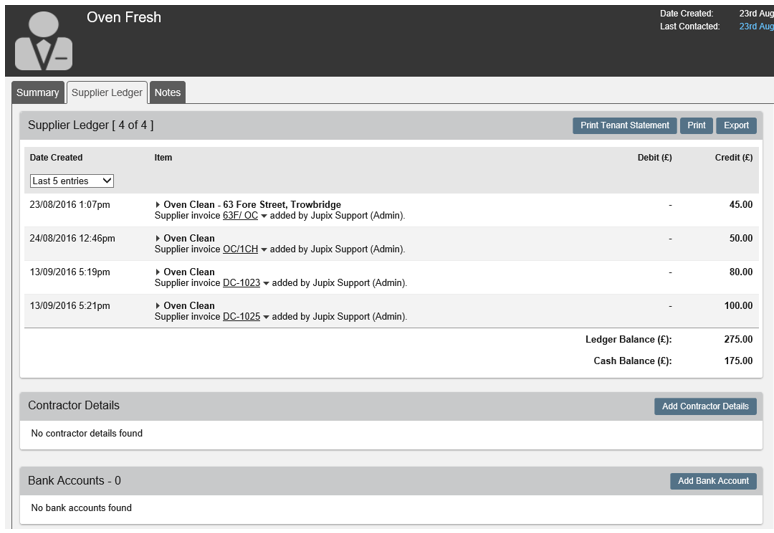 Firstly add the Suppliers Bank Account Details.

Required Fields
Account Description – This is to differentiate accounts where say a supplier may have multiple bank accounts. You will require a description so in normal circumstances just use Rent or Supplier for ease.
Bank Name – Barclays, HSBC etc
Sort Code – Add as a six-digit number without dashes, hyphens, spaces etc.
Account Number – Standard is eight digits, however you can add up to sixteen digits for non-standard account numbers
Account In The Name Of – Supplier's account name
Once a Bank Account has been added, you will need to Add Contractor Details.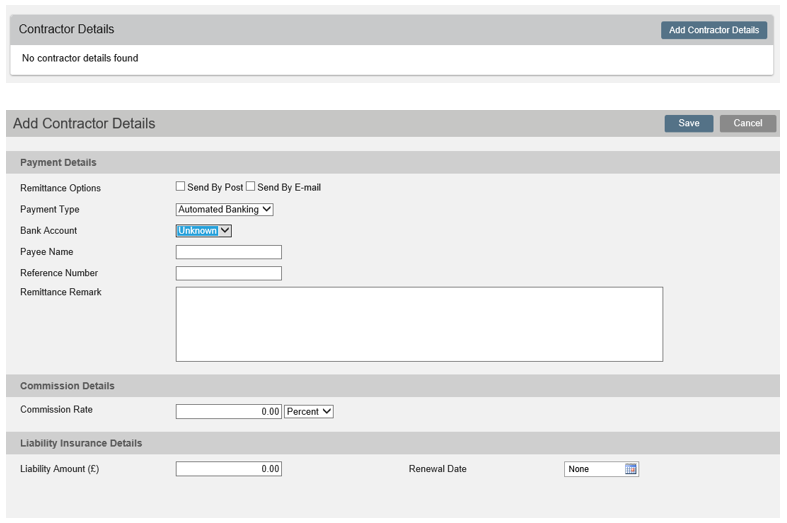 Remittance Options – Send by Post, Send by Email or both
Payment Type – Cheque or Automated Banking. If no Contractor Details are added, the Payment Type defaults to Cheque. To pay by BACS set to Automated Banking.
Payee Name – Contractors Name
Reference Number – only if paying by BACS
Remittance Remark – This will appear on any Remittance created
Commission Rate – Allows you to set the Commission Rate that can be deducted from all Invoices created on this Supplier Ledger. Commission can be set as a Percentage or Fixed amount.
Liability Insurance Details – Allows you to record the Contractors Liability Insurance Amount and Renewal Date