Follow the guide below to use the Intellilist functionally when searching for maintenance jobs.
Select Maintenance on the homebar and select Go to open the maintenance jobs intellilist. You can use this feature to search for maintenance jobs.

Maintenance Intellilists comes supplied with the following set of standard quick views:
All maintenance jobs
Maintenance jobs not approved
Maintenance jobs approved but outstanding
Maintenance jobs awaiting payment - this is where the invoice has been received but payment has not yet made to the supplier
Contractor report - this shows jobs grouped by contractor using the Group By feature. You can group by contractor or property using this new filter option
For each of these views you can further limit what you see based on ownership:
Maintenance jobs for all offices
Maintenance jobs just for my assigned office
Maintenance jobs where I have been assigned as the negotiator/owner
These views can also be accessed from the Maintenance drop down menu or from the dashboard links.
Columns & Search Options

The above button allows you to refine your search of maintenance jobs. You can refine the search by the type of job, the property, the contractor or the landlord.

This above button allows you to choose which columns appear on-screen.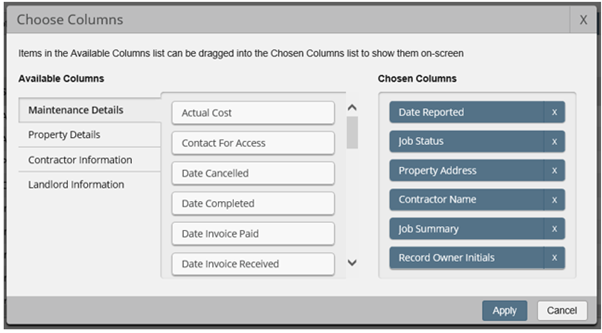 You can select available columns relating to the job details, property, the contractor or landlord. You must drag the column to wish to appear on-screen to the list on the right.
If you would like to keep the view you had created by selected different columns, click My Views and Save as a new view.