In Jupix, you can add Letting Fee Policies so they feed through to the Portals. The steps below outline where to add them.
Note
You will need access to Admin, to edit your default settings. Your appointed office Admin will have access to these permissions
Click Admin on the main homebar
Click Lettings Configuration
Scroll down to Letting Fee Policies and click Edit
To amend an existing policy, click Edit

You can tick whether this is to be the Default Policy. The default policy will be automatically selected when creating a new lettings property record

Amend the letting fee policy details and click Save
If you have multiple policies, you can select which one you would like displayed on portals, for each individual property.
Click Property on the main homebar
Search for the relevant property in the Find bar and click Go. Click View on the relevant record

Alternatively, find and click the relevant property from within the Last Viewed section

Click the Details tab
Scroll down to the Residential Lettings Profile. This is where you'll see which policy is selected for the property. To amend the policy, click Edit Residential Lettings Profile
Click the appropriate Letting Fee Policy from within the dropdown menu
Click Save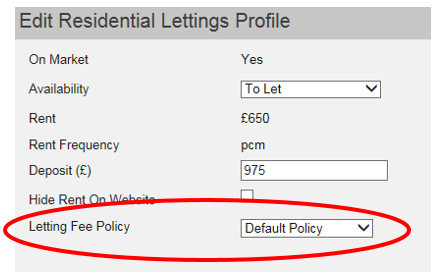 This is now the policy that feeds to portals for the selected property.