Add A New Supplier
N.B. You may need to have both Bank Account Permissions - View Bank Account Details / Edit Contact Bank Accounts, to complete this process.
Click on Contacts

Choose: Add New Third Party Contact
Now fill in the Suppliers Details and Save
On Supplier record under "Contact Category" to set the "Supplier Type" i.e Electrician, Plumber, Cleaner etc.
You can now add Bank Accounts and Contractor Details to the Supplier

Click on Add Bank Account and add the Suppliers Bank Details, then Save.

N.B. The information added in the Bank Details section is used to populate the BACs Payment file if you choose to pay the Supplier by Automated Banking and have the BACs Payment function activated on your account. You will also need to Add Contractor Details to allow the supplier to be paid by BACS.
Now Add Contractor Details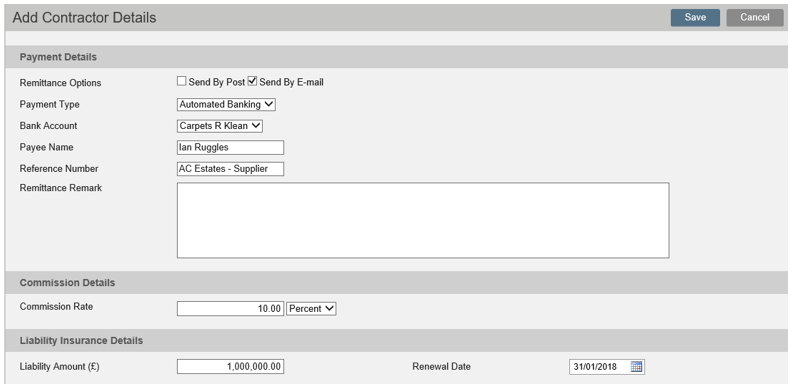 N.B. The Commission Rate added here will apply to all transactions raised against this Contractor. This can be amended on the Pay Suppliers Screen, prior to confirming payment.
Alternatively, you can add a new supplier at the point of adding a new expense, however this will only allow you to add in the supplier contact details. You will need to edit the actual supplier record to add in bank account details, commission etc.