Below are the release notes for the recent releases, enhancements, bug fixes and new features to your Jupix software.
Release Notes 2021.04
Release date: Thursday 4th February 2021
Enhancements

Planned performance updates and technology upgrades
Earlier releases
Release Notes 2021.03
Release date: Tuesday 26th January 2021
Enhancements

PropertyFile: A "Deactivate" button has been added to the PropertyFile sharing section. This allows an account to be deactivated quickly without having to edit the details and remove all the shared items manually. Deactivating an account will remove all the shares in Jupix and send a deactivation request to PropertyFile.
Release Notes 2021.02
Release date: Thursday 21st January 2021
Fixes

The print tray feature introduced in the last release has been fine tuned, following feedback. Items that can be restored are now limited to the last 30 days. Items are now ordered with the most recent at the top
A bug has been fixed on the New Unaccompanied Viewing screen, allowing the date/time panel to be displayed correctly when the lightbox opens
A bug has been fixed in the duplicate property lookup, preventing an error from being displayed when no alpha or numeric characters are entered

An efficiency in the processing of image and floorplan tags has been implemented

The mobile numbers and the sending of text messages code has been refactored

A bug has been fixed in the generation of a tenant invoice on MyJupix
Release Notes 2021.01
Release date: Thursday 14th January 2021
Fixes

You can now remove and restore items from the print tray for My Print Tray and My Offices Tray
Office Diary

Validation has been implemented on the "New Unaccompanied Viewing" screen, preventing an error if the user fails to select an applicant (Diary/ Office view/Day view, select a time range in the office column on the right)

The filename generated when a statement is printed from the property ledger has been fixed
Other minor bug fixes
Release Notes 2020.28
Release date: Thursday 17th December 2020
Fixes

Bank Statement Upload

The Bank Statement Upload causes an error when two reconciliations overlap, this has now been fixed

GDPR Deletion Rules

There are built in rules to ensure data integrity. One of the integrity rules, relating to an active ToDo, is not being applied correctly, preventing the deletion of a record that should otherwise be able to be deleted. This has now been fixed

Generate Landlord Statements

An error can occur where one user adds an entry that would affect a statement balance, whilst the Generate Landlord Statements screen is being updated by another user (eg credit an Expense or Charge). The statement will no longer be updated but show on the Generate Landlord Statement screen, with the updated entries, next time it is loaded

Saving Registration Numbers (in Admin/System Configuration)

The Company Registration Number, VAT Registration Number, Letting Agency Registration Number and NRL Reference Numbers can't be saved with a leading zero. This has now been fixed.
Release Notes 2020.27
Release date: Thursday 10th December 2020
Fixes

The HMRC S23(18) report is now generated through the report queue to avoid browser timeout issues
Supplier Invoice Numbers that contain text, or are very large numbers, that have been added via a Maintenance Job will now appear correctly on Ledgers
The record count displayed at the top of the Viewing Intellilist screen now displays the correct total when filtered by "My Viewings" where one or more of the viewings has multiple attendees
The Property Match mailout screen will no longer cause an error when all of the properties are set to "No" or "Reject"
Note
Releases 2020.23 to 2020.26.2 were planned performance updates and technology upgrades
Release Notes 2020.22
Release date: Thursday 22nd October 2020
Enhancements

NatWest Autopay Online has been added as a BACS Export Format

Fixes

Unsupported Control Characters, such as a Vertical Tab, are now stripped from the XML output
Attaching supplier invoices to landlord statements has been made more robust
Additional validation has been added when entering EPC Graph values


Graph values have been restricted to be a maximum of fifteen characters

The Auto Reconcile bank upload screen now prevents duplicate statement uploads when double clicking submit
When changing departments, some cases where the department is not updated correctly have been fixed
Other minor bug fixes
Release Notes 2020.21
Release date: Thursday 27th August 2020
Enhancements

Sales List

New filters for Sale Date, Sale Completion Date and Sale Fallen Through Date have been added to the Refine Search screen for sales lists
This applies to the Residential Sales, Commercial and Land Agency (Agricultural) department tabs

Help Centre

An enhancement to the new Help window has been implemented, making the popup window draggable within the Jupix window

Where the Jupix window height is less than the popup window size, it will be resized, but will not be draggable
Try maximising the Jupix window size before opening the Help popup window, to make it draggable

Fixes

Credit Supplier Charge

Cash will not be returned to a receipt from a supplier charge if an error is thrown while crediting it. (An error could have been caused by the office not having a bank account assigned)
Release Notes 2020.20
Release date: Tuesday 18th August 2020
New Support from Jupix

The Ask Jupix button has been replaced with a dynamic button for new web chat and Help Centre content. You will be able to access 3 key features from this button:

Search the new Help Centre to find articles that answer your questions
Web chat will enable you to speak to one of our Support Agents directly (Monday - Friday during office hours)
The ability to submit a support ticket to our team (If outside of office hours)

The text on the button will change depending on the type of support available to you:

Chat during office hours
Help outside of office hours

The Help Centre has had a refresh to make the articles even clearer and more helpful, and easier to find. Alternatively, the new Guide button gives you direct access to the Help Centre without going through chat first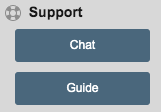 For more information on Where is the Knowledge Centre, click here
For more information on How do I submit a ticket, click here
Release Notes 2020.19
Release date: Thursday 30th July 2020
Enhancements

There are no enhancements in this release

Fixes

An issue has been fixed that prevented some saved lists from showing on the Property menu

Check Active Portals and Websites
Vendor Contact
Properties Pending Matches

Portfolio Bank Accounts will now not show in the Tenant/Potential Tenant Grid on a Tenancy Record in rare situations where the Tenant is also a Landlord
Notes of type "Email" will now show correctly when an Applicant/Property/etc record is printed

Other recent releases

2020.18.3 - 27/07/2020 Royal Mail Postcode Data updated for July 2020
2020.18.2 - 29/06/2020 Royal Mail Postcode Data updated for June 2020
2020.18.1 - 26/06/2020 Generating the Cash book report has been made significantly more efficient
Release Notes 2020.15
Release date: Wednesday 13th May 2020
The Letting Centre Tenancy Agreements May 2020


The Letter Centre Professional Series Tenancy Agreements have changed with reference to the new legislation, including:

Homes (Fitness for Human Habitation) Act 2018
Electrical Safety Standards in the Private Rented Sector (England) Regulations 2020

There are also substantial changes to the format of the Assured Shorthold Tenancy Agreements with a move towards using contractual periodic continuations to the tenancy agreements as standard for 2020 onwards
See Schedule of Changes for more details

Enhancements

There are no enhancements in this release

Fixes

There are no fixes in this release
Release Notes 2020.14
Release date: Thursday 7th May 2020
Fixes

A fix has been applied to prevent the opening or editing of an e-Sign document that has been prepared and awaits finalising
Any historic Contacts, added prior to the introduction of stronger validation of email in the past, who have invalid email addresses will be prompted to resolve the address prior to allowing their activation on PropertyFile
A fix to the dashboard metric for Online viewing feedback not acknowledged now ensures that any subsequently Deleted or Archived viewings are not included in the count in either the Sales or Lettings departments
Re-sizing of the Ask Jupix chatbox has been improved to ensure that Open Knowledge Centre button is visible on low resolutions or zoomed browsers
Release Notes 2020.13
Release date: Thursday 30th April 2020
Fixes

When assigning a Potential Landlord to an existing property using the Special Actions -> Change Ownership function, a fix has been applied so that it now removes them from the Potential Landlords list
Release Notes 2020.12
Release date: Thursday 23rd April 2020
Enhancements

A message has been added for administrators to alert you that when deactivating one of your users this doesn't automatically affect your account subscription and that you should contact Jupix sales admin team
EPC scores on a property can be marked as Non-Domestic and this is supported by the %epcEER_current_letter% document tag

Fixes

For users using the legacy documents mode, an issue that prevented documents from being opened after download has been fixed
A fix has been made so that line breaks in descriptions no longer create an additional space before the line starts in Commercial and Land Agency brochures
Supplier charges raised against joint landlords, and credited in full prior to October 2019, will not show on Landlord Income reports
When sending batch emails to landlords, joint landlords will now be displayed (and sent to) independently
Digitally Signable Documents relating to deleted templates, or archived properties, will now remain visible
Release Notes 2020.11
Release date: Thursday 15th April 2020
Enhancements

Jupix now supports BACS exports for Handelsbanken

Fixes

Several fixes have been made to prevent Landlord Statements from being able to create under-funded payments

Credits for Supplier Charges will no longer appear on Statements (unless the related charge has/will)
Full Credited charges will no longer show the option to "Withhold Payment" from a Maintenance Job
Charges already paid to agency will no longer show the option to "Withhold Payment" from a Maintenance Job
Maintenance Jobs where the charge has been both withheld and partially credited will now show the reduced amount in the Upcoming & Withheld Maintenance section of Statement previews
Charges that have been withheld directly from the Pay Suppliers screen will now continue to receive cash and will still appear on Statements
Agency Charges raised against Maintenance Jobs that have been withheld will now not receive cash

A fix has been applied to resolve an issue validating deposit amounts (consisting of a number of separate deposit values) when returning them from the deposit account
Release Notes 2020.10
Release date: Thursday 2nd April 2020
Enhancements

Making Tax Digital - Quickbooks Online has been added to the list of Accounting Package Formats supported.
The highlighting of differences between the contact details on the incoming lead and the contact details from the linked Jupix contact record have been improved on the Enquiries screen.

Fixes

There are no fixes in this release